Photo by Ingrid Barrentine
"A teaspoon of help in an ocean of need" – Alaska employees share their stories of the Maui wildfires
Expressing empathy and solidarity in the wake of last month's devastating wildfires in West Maui is challenging, as the losses were profound. As the community embarks on a long journey of recovery and rebuilding, our employees continue to show their unwavering commitment to supporting others in their time of greatest need. This spirit of dedication and compassion is the DNA that unites us at Alaska Airlines. It's ingrained in our very essence to care for and serve our communities, shaping who we are as a company.
Here are just a few of the stories of how employees helped at ground zero of the devastation on Maui — from a dispatcher vacationing when the fires broke out, to a captain flying in who worked in a relief kitchen and our local team who rushed to the airport to help — in their own words.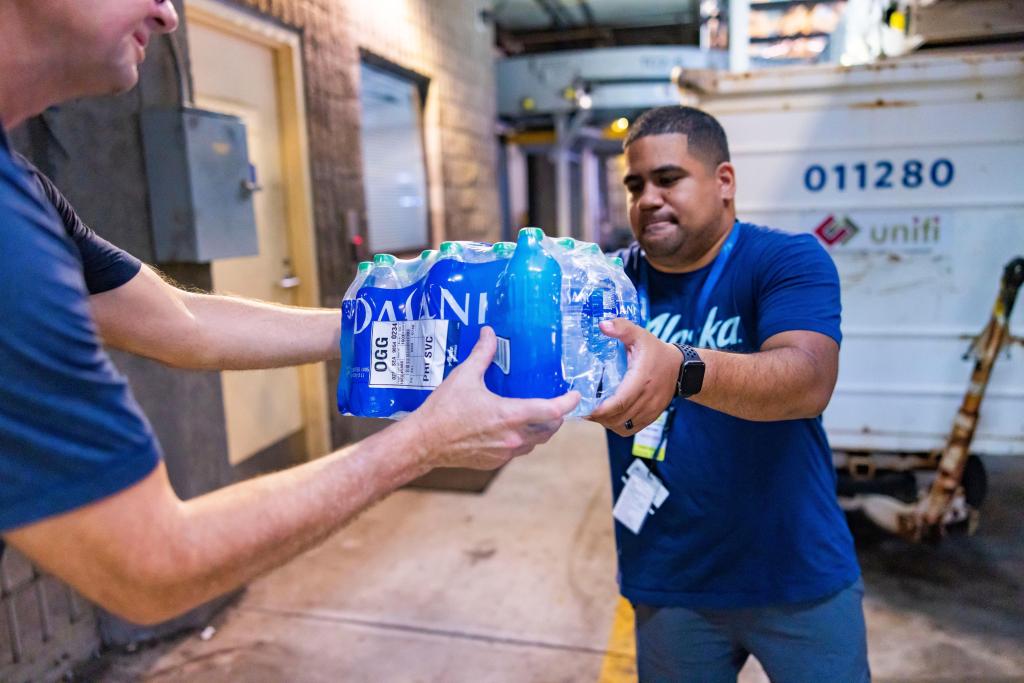 "I was aware of the ongoing brush fires in Lahaina and Upcountry Maui for a few days. But, it wasn't until I received a 2 a.m. phone call from the Lieutenant Governor's office that I fully comprehended the extent and severity of the fire. I went to the Maui airport to do what I could, unloading supplies that Alaska was shipping in – water, food, etc. From the outset our Hawai'i team was at the forefront, answering urgent calls and rallying our airline industry allies. Their dedication went beyond merely supporting our passengers; they were deeply committed to caring for the communities we serve. From our public affairs group to our operations team and our invaluable partners at Unifi, everyone united to ensure supplies reached those in dire need. Witnessing everyone's heartfelt effort, driven not by obligation but by genuine compassion, was deeply touching. I'm proud to be part of a company that unwaveringly supports our Maui and Hawai'i communities." – Jacob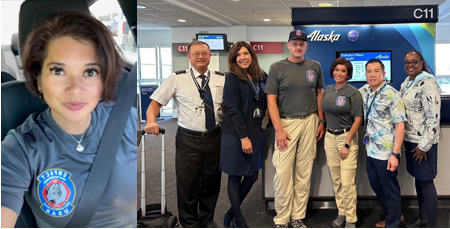 "This one was hard. Really hard. This is my home state."

–  Sil, flight attendant and volunteer rescue worker
"We landed on Maui on Saturday, Aug. 12. I was part of an assessment team of Empact International (NW). My job (in addition to being a flight attendant) was to assess the need for more of my team members to join us. It was very apparent from the moment I hit the ground that the need for help was immense. A couple of days later, four more of my team members joined me. While in Lahaina, my team helped relief & recovery efforts in two ways. We relieved Maui fire fighters who were part of the difficult task of searching for remains. We also were in command of a county supported distribution point. My team distributed over 100 tons of aid (food/water & necessities), over 9,000 people served, coordinated over 500 volunteers. I was so proud to see box after box labeled, 'Alaska' on them as they came through the station. This is my 19th major disaster. This one was hard. Really hard. This is my home state." – Sil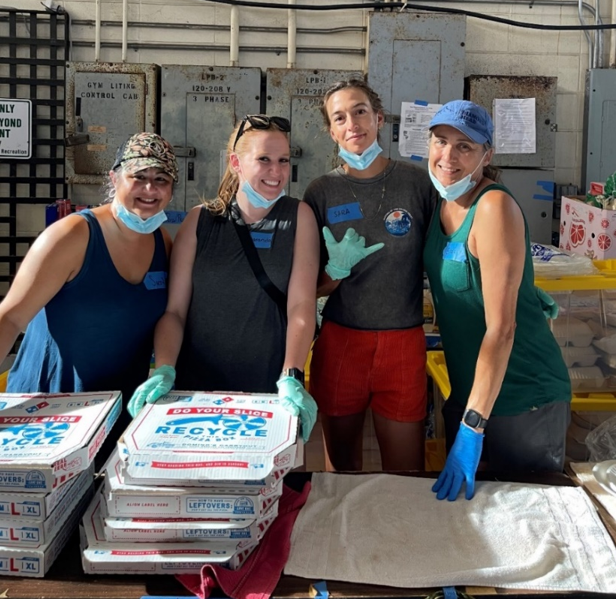 "We were a teaspoon of help in an ocean of need."

– Sandi, captain, who piloted flights into Maui and volunteered 
"Sara and I were pilots on a flight to Maui on the early morning of Aug. 9, mere hours after the fire had begun. We got a birds-eye view of the devastation. We saw the immediate response of the community, everything from the locals opening homes to strangers (as if there was ever a stranger in the islands) to relief flights to get people off the island. Sara and I decided on the way home that we would figure out a way to do whatever we could. When we returned on a flight days later, we rented a car and headed for the docks where a local organization was running supplies via boats into Lahaina. We helped there where we could then we returned to the hotel and picked up Flight Attendants Maranda and Suzanne. The four of us volunteered at the War Memorial Gym Shelter until 7 p.m. that evening. It was an emotional day for everyone and in the big scheme of things, a teaspoon of help in an ocean of need. But our hope was to be there for Maui and acquire info for others should they also choose to help. I was, and still am, humbled by how people drop everything to take care of people in need. We are blessed that when all is said and done, we don't worry about our differences – we see, focus and value our similarities, inclusiveness and humanity." – Sandi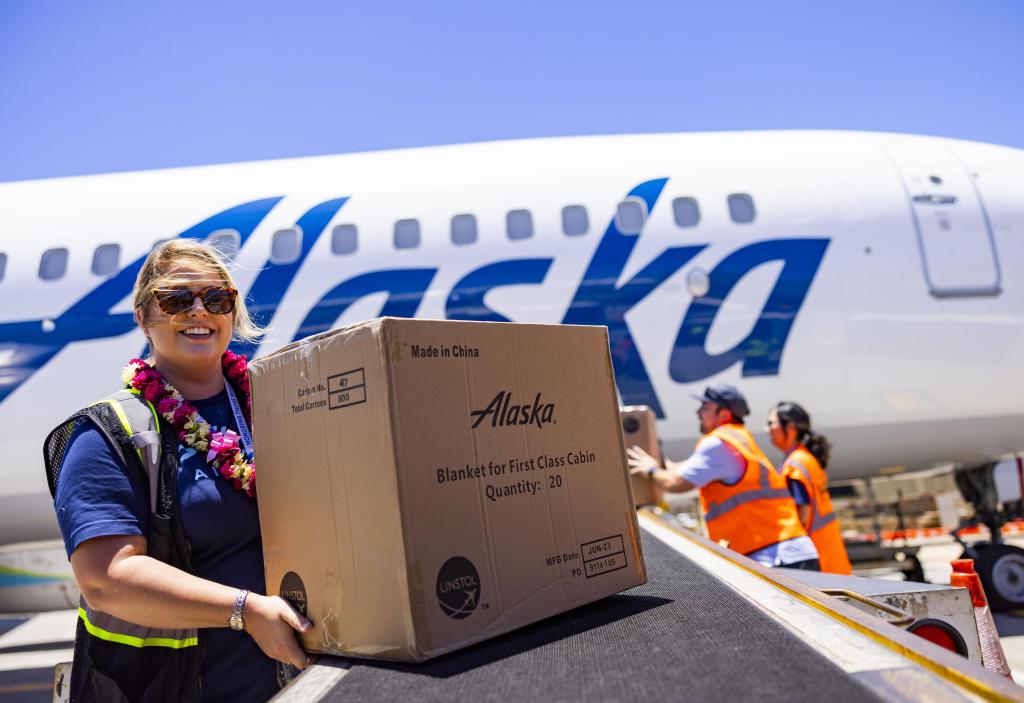 "I've never been prouder to be a part of this company. The very first question I was asked was "How can we help, what do you need?" within hours I had more support and supplies than I could've ever imagined. Immediately we began assisting our local airport community, employees, and guests, we had over 2,000 passengers overnighting at the airport with only the clothes on their backs, we were able to provide them with food, water, and blankets. My team showed up day in and day out despite many of them losing much more than material items, their desire to provide service and care for our guests and each other was truly remarkable. For weeks following the fires we made daily supply runs to Lahaina, upcountry and various other distribution centers, and neighborhoods across the island and we are continuing to have a presence in the community to this day. Meeting some extraordinary people along the way, those who lost everything were stepping up to help a perfect stranger, it was humbling to see the compassion and care for others. Maui is my home; I feel so privileged to have had the opportunity to be a part of something much greater than myself." – Kelsey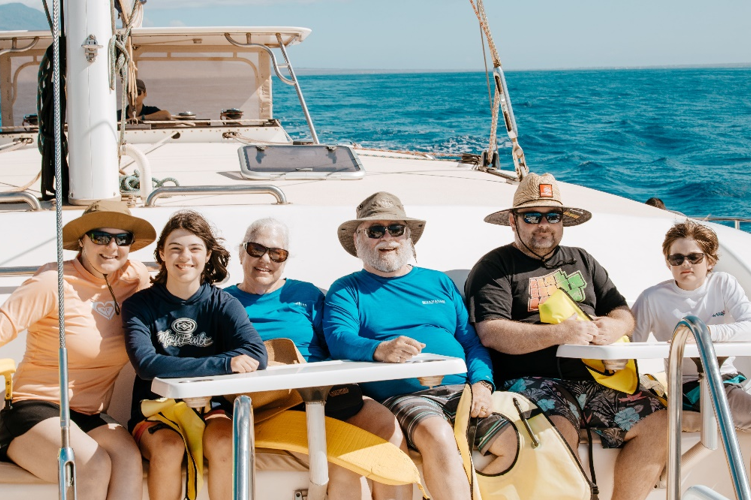 "We didn't want to be a burden, so we stayed and helped as we could."

– Brad, dispatch manager, who was visiting Maui with his family when the fires hit 
"Our family arrived on Maui the day before the worst of the fires. It was 11:30 p.m. when we received the alert to evacuate because of a fire close to us. The suggestion was to go to Maui High School, so we went there first. It was packed, so we figured we'd just strike out on our own. We ended up spending the rest of the night in our minivan in the cell phone lot at the airport. Checking in with my co-workers, I learned that Alaska was adding extra sections to help folks get off the island. There were a lot of people sleeping in the airport, on the floor, on baggage carousels, everywhere. We didn't want to be a burden or in the way of recovery efforts or go to the airport and add ourselves to that problem – or taking seats from people who needed to get off the island wouldn't help either. So, we hunkered down and did what we could to be of assistance. My parents volunteered at a church shelter. My wife worked at the War Memorial Gym shelter for the Red Cross, and also at the Humane Society. I was on childcare duty while also helping with the company's response in the initial days after the fires as best I could. Our story is nothing compared to many others. We were just visitors, trying not to be a burden and helped as we could. We were able to get on an airplane and return as a family to our home. Others don't have that option."  – Brad
Where can you travel to Maui right now?
Hawai'i residents and visitors are encouraged to make travel plans to Maui and support the island's businesses, restaurants, retail outlets, attractions, and accommodations. All previous restrictions for travel to West Maui communities north of Lahaina will be lifted Oct. 8, and no one should be discouraged or reluctant to go and support the businesses and workers that rely on tourism in West Maui for their families' livelihood.
Lahaina itself will remain fully closed to the public until further notice out of respect to the town's residents. County, state, and federal emergency responders continue with efforts to identify victims and the missing, and conduct clean-up efforts of debris and hazardous materials resulting from the wildfires.
Maui still needs your help. 
We are so grateful for the efforts of all our nonprofit partners who've been working on the ground to provide much-needed support to local communities. Here are three remarkable organizations we're supporting, and encourage you to consider contributing to:
Kanu Hawai'i and Maui Rapid Response are leading an effort to provide travel support for Maui residents who have been impacted by the wildfires. Together with our employees and guests, Alaska has donated nearly 27 million miles towards this program.
The Council for Native Hawaiian Advancement's (CNHA) Kāko'o Maui fund will directly support community-driven relief efforts on Maui. CNHA's mission is to enhance the cultural, economic, political and community development of Native Hawaiians. The Alaska Airlines Foundation, together with Alaska employees and our company's employee Matching Gift program, have pledged more than $150,000 to this campaign over the past few days.
Airlink is coordinating relief supplies and travel for first responders to support immediate recovery efforts on Maui. Alaska has also donated 1.5 million miles to enable their work.
Useful links
Airport transfer - Book your Airport Taxi transfer. Worldwide. Easy and enjoyable!
Car Rental Deals - Search and compare Car Deals and save up 70% discount
Cheap Flights - tired of travelling standby? Here you can find the Cheapest Flights all over the world.
Cruise trips - worldwide Cruises with great interline rates
GetYourGuide - Book tours, activities, and attractions anywhere..
Travel Insurance - World Nomads have the Best possible Rates on Travel Insurance. Simple and flexible!